According to a press release from the Louis Brandeis Center for Human Rights Under Law, the US Dept. of Education is investigating allegations of 'anti-Semitism' at the University of Vermont (UVM). The Brandeis Center sent a Civil Rights complaint back in October of 2021 to then Acting Assistant Secretary of the Dept. of Education Office for Civil Rights Suzanne Goldberg.
Among Brandeis Center's (BC) allegations is a claim of vandalism against the campus Hillel building, anti-Zionist discrimination in student groups and grades in class. According to their complaint, the UVM Revolutionary Socialist Union (RSU) discriminates against Jewish students because they do not accept Zionists as members. The group officially states that, "[n]o racism, racial chauvinism, predatory behavior, homophobia, transphobia, Zionism, or bigotry and hate speech of any kind will be tolerated." The BC claims:
RSU is eligible to receive UVM funding as a subset of the UVM Book Club, a UVM recognized student organization. Students have complained to UVM administrators about RSU's discriminatory practices. Yet, to date, the university has taken no steps to disqualify RSU or sanction the UVM Book Club for hosting an organization that explicitly excludes from membership Jewish students for whom Zionism is integral to their Jewish ethnic identity.
If a Christian sincerely believes in traditional marriage, supports protecting children from "drag queens" or opposes the transgender ideology, she would also be forbidden from joining the group; yet that point is ignored.
Another allegation is that one unnamed Muslim TA posted some offensive tweets, screen capped below.
BC also bemoaned an incident of "vandalism." They claim that the Student Hillel building was pelted with rocks for approximately 40 minutes without any response from security. They only present two photos—both of which only show what looks like rotten fruit on doors to the facility. The images from the complaint appear to show no broken glass, contrary to what one would expect from a bombardment of rocks. No doubt if the Hillel group had stronger evidence of a more severe attack, they would show proof demonstrating as much.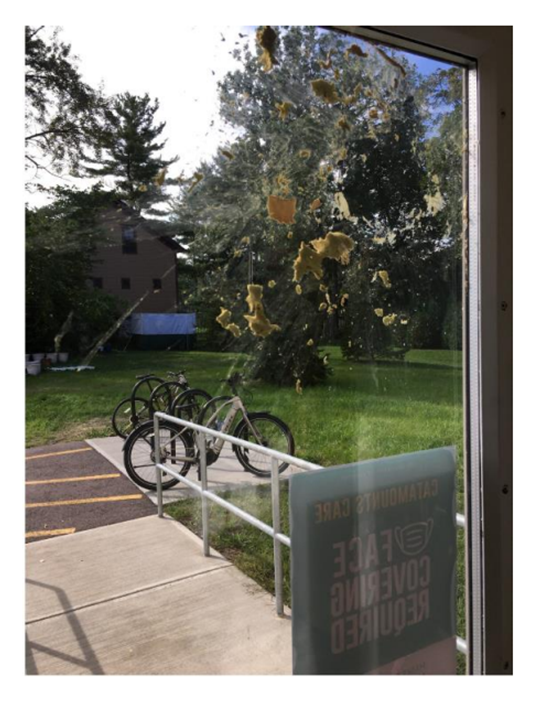 According to TVDIGGER, "Matt Vogel, executive director of UVM Hillel, said the college has much more work to do to make Jewish students feel safe and welcome. 'Hillel at UVM and Hillel International have been fighting antisemitism and creating space for Jewish students to be Jewish in the way they want to be since our founding in 1923,' he wrote."
According to their website,
The Louis D. Brandeis Center is an independent, nonprofit organization established to advance the civil and human rights of the Jewish people and promote justice for all. The Brandeis Center conducts research, education, and advocacy to combat the resurgence of anti-Semitism on college and university campuses.
When the complaint was filed in 2021, the Civil Rights office was directed by Acting Assist. Sec. Goldberg. As of September 2022, it's led by Catherine E. Lhamon who is also jewish.
UVM has a history of anti-White discrimination and bias. The Revolutionary Socialist Union, which the Zionists only complain about as it relates to them, can receive university funding. RSU favours "black liberation" and engages in "direct action" in the Burlington area. So-called direct action is code used by left-wing extremists for committing acts of violence and banditry.
Back in 2016, UVM hosted a retreat only for "Whites" to examine their so-called white privilege. College spokesman Enrique Corredera described the program as a:
non-credit bearing retreat was designed to engage white students who wanted to become more effective allies in confronting racism and supporting students of color at UVM. These students were seeking an educational opportunity for themselves to learn about and understand the issue of white privilege, its historical roots, and its current dynamics and impact.
The retreat was taxpayer funded.
Also at UVM, a counseling professor, Aaron Kindsvatter went public with criticisms of the university for promoting "anti-racist" ideology along the lines of Ibram X. Kendi. Speaking with Unherd, Kindsvatter described the toxic environment in mental health education. He characterized the "anti-racist" curriculum as similar to "an abusive relationship" in which the abuser lies about who has the power to manipulate the weaker person.
I'm really afraid that the next generations of students, who will be mental health practitioners, are going to be taught…anti-racism [sic] is something that they should take into their psychotherapy sessions with them. Then they will take this teaching into the school as school counsellors to teach the children and that is what is particularly frightening…The whiteness dialogue more generally has morphed into an idea where all of society's social ills are based on the dominance of a particular race of people. White people. Which is an incredibly scary way of thinking.
For his public stance, outraged leftist students signed a petition for his removal. While the UVM Administration didn't discipline Kindsvatter, they stated his views were not in line with their "values" and they would lean further into their "diversity, equity and inclusion" agenda.
There are plenty of other examples of anti-White discrimination on college campuses and plenty of fake hate crimes (not dissimilar to the Hillel incident) reported across the country. In education more broadly, anti-White discrimination has gone completely ignored by the Civil Rights office, as was the case with the new teachers contract negotiated in Minneapolis which puts White teachers up for redundancy first regardless of performance or seniority. Meanwhile the practice of Critical Race Theory proliferates curriculum.
For more from Martin, follow me here.