The Russian government believes hostages are being held near the border with Ukraine after a raid by the "Russian Volunteer Corps" this morning. While details are still coming in, it appears gunfire was exchanged and there are wounded and dead. According to Vladimir Putin, in a brief press conference this morning, the raiders knew they were shooting at a car with children in it and Russia has claimed children were shot. The attack, and allegations from the Ukrainian side that it is a "provocation operation", come on the heels of a recent information operation, embraced by pro-Russian netizens, to convince the public that Belarus had been attacked and a red line for participation in the war crossed.

As seen above, a top advisor to Zelenskyy, Mikhailo Podolyak, claimed today that the attack near Bryansk was somehow both proof that Russia was in danger of partisan attacks and proof that Russia stages attacks on itself. Thanks to research by telegram posters on the partisan pro-Russia channels TrackAMerc and Ghost of ZVO , the attackers can be verified as long-standing opponents of Putin and very unlikely Kremlin assets.
In the first video, which does not have subtitles, Denis Kapustin (known as Denis Nikitin), leader of the "Russian Volunteer Corps" and former organizer of the "White Rex" fighting tournaments, can be seen in the village of Lyubchane, Bryansk Oblast, Russia. In the second video, associates Kirill Radonskiy and Osvald Lemoh, also of the RVC (РДК) can be seen explaining that they did not come to attack civilians and accuse the Russians of targeting civilians.
In the next video, Putin makes a statement (with subtitles) in which he claims the raiders knowingly shot children.
Here are some observations we can make even in this badly-muddied information environment:
Putin and Radonskiy are highly political operators during a war. Nothing they say can be trusted because they are fighting an information war. Only the emergence of strong evidence can permit strong claims.
AZgeopolitics and The Right People Z, popular pro-Russian telegram channels, have claimed that Denis Kapustin (Nikitin) is Jewish and that the RVC is a CIA front. No evidence is available to support these claims directly at time of press. We will make the case in this article that the RVC is likely to be a US asset. It is important to note that while The Right People Z is a pro-Rusich (Nazi) account, AZgeopolitics supports the Russian operation under the rationale that it is anti-Nazi which makes their tactical use of Jew-jacketing fairly suspect.
Kapustin made a series of recruitment videos that are objectively weak which can be examined.
In the above videos, Kapustin addresses his international audience in English, saying that Zelenskyy may be a gay Jew but this is still "our fight." It is hard to describe the strange leap from making a strong case against Ukraine to pivoting to an extremely weak case to put one's life on the line. The implication seems to be that it would be fun or thrilling to die as a Nazi, which is why it is ok to fight for Zelenskyy. Leave a comment and explain if I've been unfair to his argument in the first video. The second video is more of the same but focuses more on Putin himself.
In the previous links claiming Kapustin is Jewish, (again, here and here), it is essential to understand that both channels make claims that he migrated in 2001 to Germany under a law allowing Jews from Eastern Europe to return to Germany. One channel also posted a picture of him looking swarthy with what the poster claimed are prostitutes.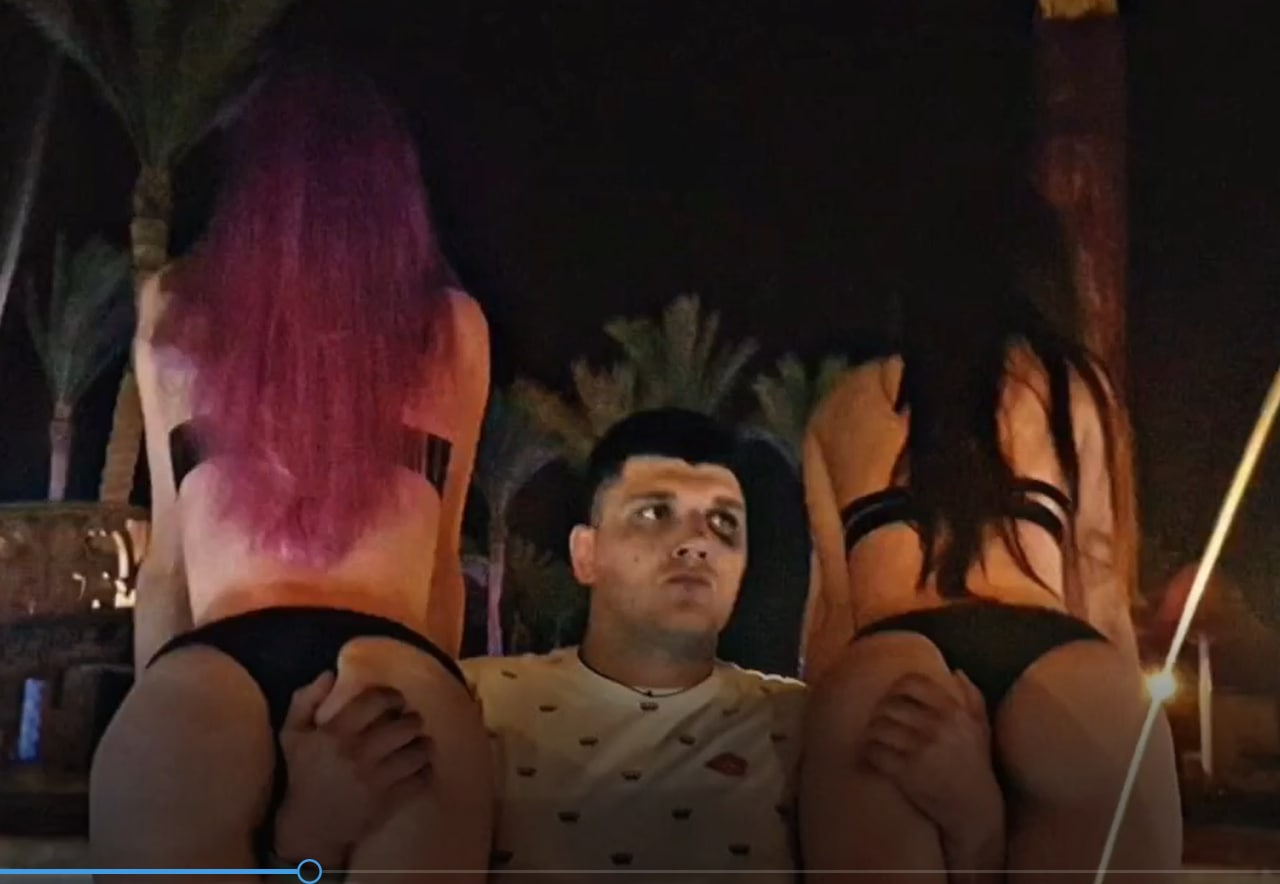 While interesting, claims of his Jewish ancestry are weak in the extreme. They are provided without any evidence, and no evidence was provided when we attempted to contact the channels. We will update the article if a response can be provided. Unfortunately for people seeking certainty, even if Kapustin's mother (who emigrated with him while he was a minor in 2001, according to the Telegram claim) used a law meant for Jews, it may only indicate she was acting opportunistically for economic reasons.
As time passes and no evidence is provided, claims that Kapustin is Jewish actually become weaker due to the phenomenon of "Jew-jacketing," a strategy that state actors use to discredit dissidents and nationalists. This is not to say Kapustin is not Jewish or that he is a sincere nationalist dissident. While these weak claims discredit his detractors, there are strong claims that can be made against Kapustin due to his recent associations.
Cooperation with the national republican army
On August 31st, 2022, Kapustin's Russian Volunteer Corps reportedly signed an agreement to work with Ilya Ponomarev's National Republican Army. Born in Moscow, Ponomarev was an executive of Yukos Oil and joined the Russian Duma in 2010. In 2012, he opposed the Dima Yakovlev law which restricted adoption to American families, was the only Russian politician to oppose a law barring gay propaganda, and he began using the Navalny phrase "crooks and thieves" to refer to the Kremlin. Ponomarev moved to San Jose, California in 2014 and was tried in absentia for embezzlement. In 2016 he moved to Kyiv and was stripped of membership in the Duma. In 2019 he was granted Ukrainian citizenship by Poroshenko.
Since the beginning of the current conflict in 2022, Ponomarev has been extremely active in the war. Ponomarev and his National Republican Army claimed credit for the assassination of Daria Dugina and Ponomarev personally read the announcement.
Ponomarev's Instagram profile contains a link to a defunct website which the Hyphen-Report was able to find in archived form. As seen in that archived link, Ponomarev served on the board of Trident Acquisitions, led by former ExxonMobil executive Edward Verona who, unsurprisingly, also served for five years as the President of the US-Russia Business Council (USRBC). The other board members listed form a team which any observer would have to admit looks an awful lot like American business and finance planning to take control of Russian and Ukrainian natural resources. Readers are invited to scroll through the archived site and research each member on their own.
The August 2022 agreement between the Russian Volunteer Corps and the National Republican Army was reportedly signed to achieve the goal of "a free democratic Russia." The signatories urged readers to "reject all doubts and disagreements and join the fight." This is very similar language to Kapustin's videos addressed earlier in this article. To assume the view of a Russian Volunteer Corps supporter for a moment, it seems plausible that Russian nationalists would be upset with Putin if they believed he had been persecuting innocent nationalists.
However, supporting liberal "democracy" as a fascist is not coherent, especially when one is allied with ISIS-in-business-attire like Ponomarev and Verona. There is only one conclusion I can come to which is that Kapustin is knowingly working with American business interests who want to strip and plunder Ukraine and Russia alike. Whether it ends up being proven that his troops fired knowingly on civilians remains to be seen but it is actually immaterial to what we already know: he's working for the the American empire.